Regatta Food Reimbursement
Reimbursement: All shopping items can be reimbursed. Please keep all receipts in single files (only regatta items included on the receipt), scan them and ensure they are all oriented the same. The 2022 Payment Form can be found here to submit expenses. Once the form is submitted, the treasurer will have to approve. A completed form will look like the file here. To obtain the password to open this file, or to ask any questions, please email Dennis Ward – treasurer@salinerowing.org.
SAS Does not reimburse Sales Tax. Any Sales Tax must be deducted from the total receipt amount. Some stores have a W9 on file from SAS and if identified as a SAS purchase, will not charge Sales Tax.
Below is a brief tutorial on how to complete the reimbursement form:
The first page should look like this. Type in your name and email address on the indicated lines: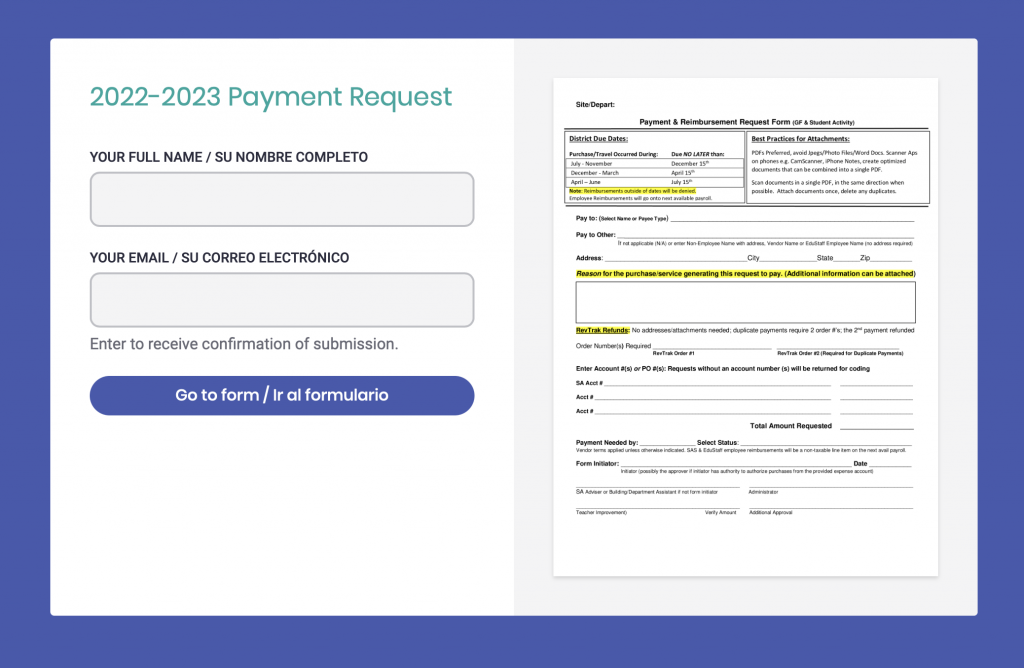 After clicking the Go to form button a blank form will be presented – scrolling will be necessary in most browsers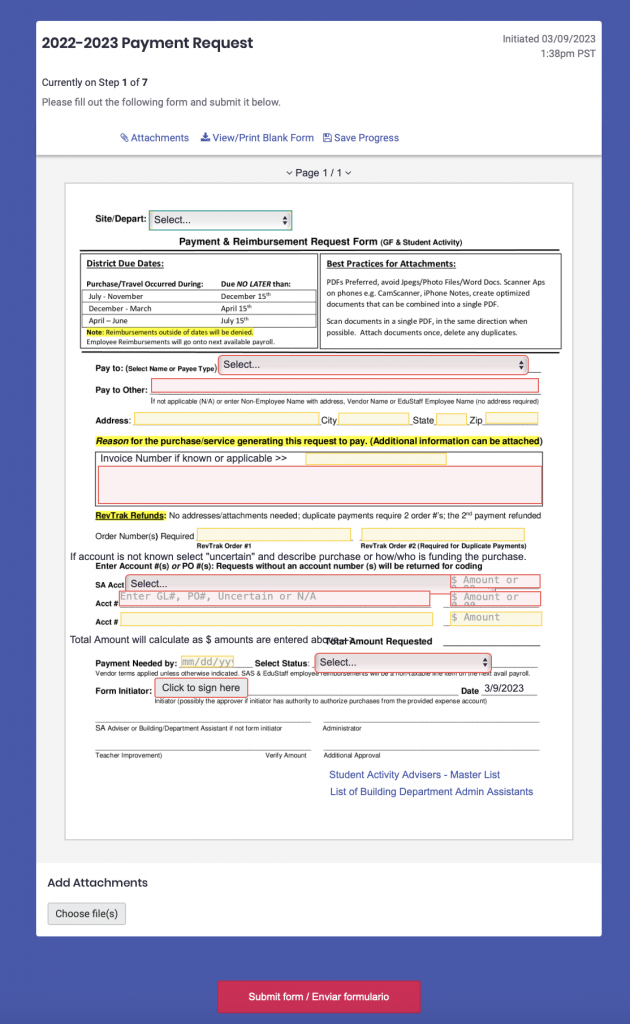 Complete the form as follows:
Site / Department: Athletics
Pay to: 2 NON EMPLOYEE (NAME AND ADDRESS NEEDED)
Pay to Other: Your Legal First and Last Name (What you use when cashing a check)
Address / City / State / ZIP – Your home address information / where you receive mail
In the large RED BOX, type in – Regatta Food for Specific Regatta Name
For Example: "Regatta Food for Hebda Cup Regatta"
SA Acct: Use the Pull Down to Select: Crew 61.2431.0186
Next to that, the Amount box is the amount of requested reimbursement. This must match the total of the attached receipts!
Act# RED BOX: N/A
Amount: 0.00
Payment needed by: Select the following Tuesday. (Checks are run every Tuesday)
Select Status Drop Down: Payment sent to "Pay to" indicated
Form Initiator: Click on this box, and a popup will load for an electronic signature
Add Attachments (Top or Bottom of form) – the single file containing all the receipts. The file must be a PDF and the receipts all oriented the same.
When complete, click on Submit Form and the following window will be presented: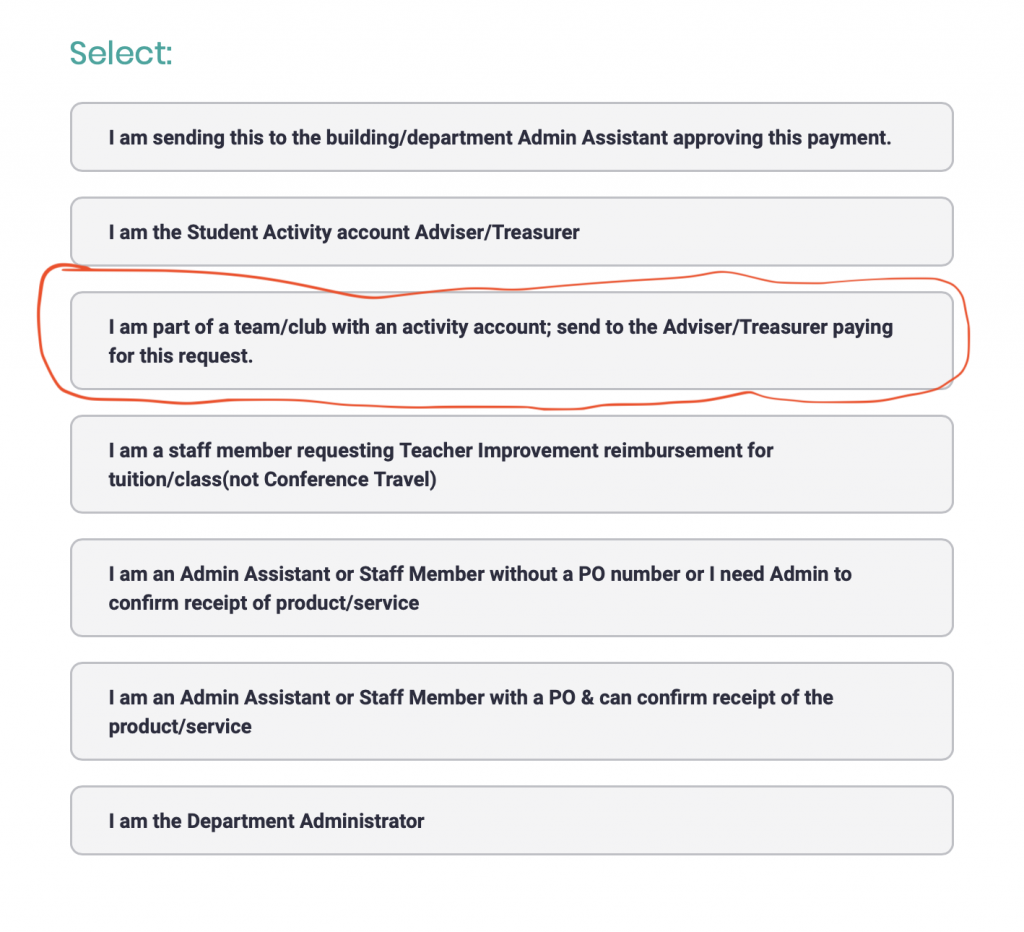 ONLY select the 3rd Option: I am part of a team/club with an activity account; send to the Advisor/Treasurer paying for this request.
Complete the next window as follows: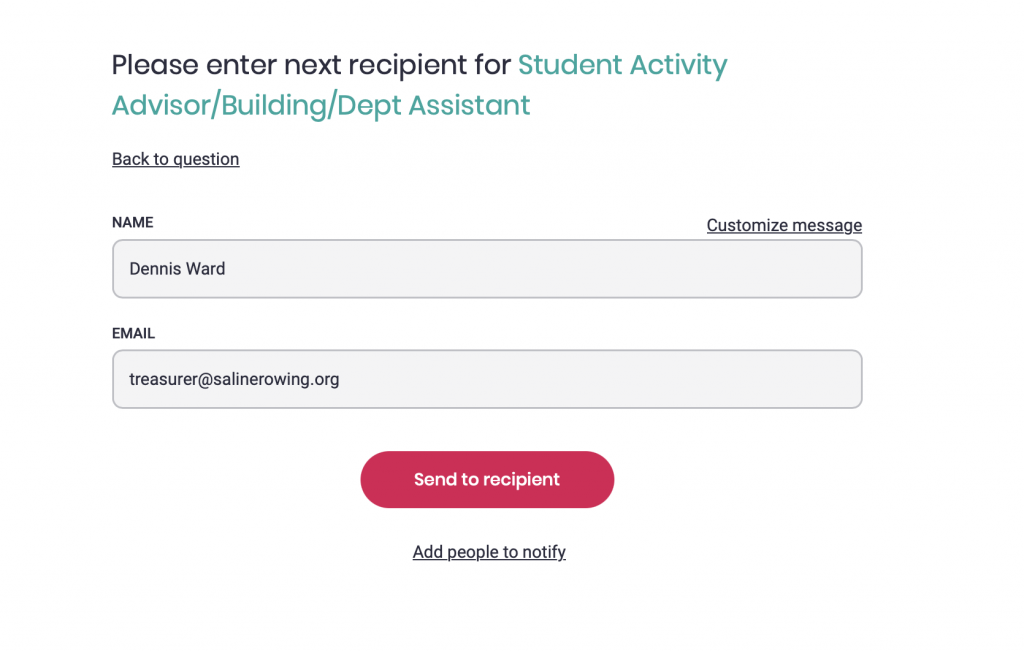 Click Send to recipient